TRANSITION EXPO – DISABILITY CONNECT
Date: 9th March 2022
Venue: Auckland Netball Centre, 7 Allison Fergusson Drive, St Johns
Time: 9am-2pm
Explore what is available.
Interactive Activities:
Opportunities and advice from Transition, Vocational, Employment, Education, Recreation and Information Providers
Social enterprises resources
Chill Zone – quiet sensory space
Competition with prizes
Cafe on site
Forum speakers at 12pm:
Anne Hawker – Bio Principal Disability Advisor Ministry of Social Development Involved in the Disability sector since 1979, Anne has worked in a variety of roles including establishing the Mosgiel Abilities Resource Centre, setting up the first stroke group within NZ, establishing the Attendant Care scheme in Otago, Treasurer of the NZ Federation of Disability Information Centre and Rehabilitation Association, Chief Executive of the Head Injury Society and President of the Disabled Peoples Assembly. Since 1997 she has worked in Health, ACC and the Ministry of Social Development and has participated in UN debates and deliberations on the United Nation Convention on the Rights of People with Disabilities which New Zealand ratified in 2008.
Adri Isbister – Deputy Director-General Disability (DDG), Ministry of Health. With over 27 years of experience as a CEO, executive leader, business owner and company director, Adri has extensive experience in management of large budgets and projects and business growth. Previous to the DDG position Adri was employed by the Wairarapa DHB as CEO and has, during her tenure, led the development of cross-sector work and the implementation of Health Care Home, a primary care initiative. More pertinent to the disability sector she is the former leader of LIFE Unlimited, a national health and disability service provider. Adri also supported the implementation of the New Zealand Disability Strategy and has held governance positions within corporate and NGO entities. Adri has lived experience of disability.
Karen Nowell-Usticke – Business Improvement Analyst, Tertiary Education Commission Karen has a serious service design bent and loves the challenges of service design and business improvement – especially using her experience in the disability inclusion space. In her 'free time' she manages Special Olympics Wellington Basketball, and a hip hop crew whose only qualification to be a part of the group is an intellectual disability. Karen has participated in this community for many years and it has given her a unique perspective on problem solving and coming up with a better way forward in the public service and the disability community. On the personal front dyslexia drives her ethos in and out of work. Seeing things differently from others, she is an empathetic listener and is always willing to challenge the norm. The proud parent of a beautiful daughter who has an intellectual disability and an amazing son who has dyslexia, Karen has first-hand experience of the hard work that goes into bringing up children who do not fit the 'standard' way of doing things. She counts among her biggest successes in life so far, having her daughter (now 28) work part time in a florist and running her own business making dog biscuits, while her son, who battled his way through school as a dyslexic, is an Information Architect.
Our live panel will talk about supports, enabling good lives, education, housing, employment, transport and much more. Please send us the questions you have for our expert guests and you might hear them answer it in this session.
Send your questions to: admin@disabilityconnect.org.nz
Additional Information:
Free parking
Wheelchair accessible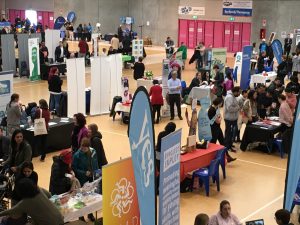 All students with a disability and those involved in the disability sector will enjoy this day
Stories told to TVNZ at Expo 2020
For more information:Email: admin@disabilityconnect.org.nz
Phone: 09 636 0351
Website: disabilityconnect.org.nz
Facebook: https://www.facebook.com/ParentandFamilyResourceCentre/
Supported by Ministry of Social Development