All of our projects and programmes have been co-created and co-delivered with young people with disabilities and learning differences to ensure we are creating the right environment to develop personally and professionally, ultimately allowing them to lead independent, thriving lives.
Here are some of the exciting projects and programmes we offer:
Yes I Can
YES I CAN is a 2-day values workshop for youth with disabilities. They learn about what values resonate with them, how that informs the way they view the world and how they interact with others. 
This workshop is the perfect starting point for personal and professional development.
I.DRIVE Learner Licensing Programme
Gaining your Learner License is one of the biggest starter milestones in starting you on your journey towards independence. 
We are now running workshops for young people with disabilities to learn the Road Code in a different, interactive and innovative way. By having our own in-house facilitator, we are able to cater each class to meet each student's learning needs.
We have 4 classes available throughout the year. See our What's Happening page for more details and upcoming course dates.
If you or a person you know is interested in enrolling, or would like to know more, please contact Josh: josh@yesdisability.org.nz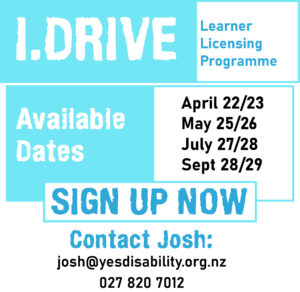 Pacific Education Support Programme
Are you an NCEA Pasifika student with a disability or learning difference? 
Needing a little extra after-school educational support? 
This is the opportunity for you! 
Our new Pacific Education Support Programme provides high school students with disabilities and learning differences extra after-school support with their NCEA studies.
Our Youth Participation Consultant, Education Specialist and "Aiga" Family Liaison are committed to supporting our youth with visible and invisible disabilities remain motivated and engaged in their studies, in a safe and encouraging environment. It is a place where cultures are respected and valued, and young people are listened to and supported.
Running during Terms 1 & 2.
Come and have some delicious pizza with us, while our dedicated team support you with your study. 
Receive a $30 Hoyts Movie Voucher for every 10 sessions attended.
This is a fully funded programme, so is completely free of charge.
Financial Support is also available for Transport and Tutoring. 
2 Locations:
Shore Junction
19 Northcote Road, Takapuna
Every Wednesday & Thursday
3pm – 6pm
Phab Pasifika
Allan Brewster Leisure Centre
Tavern Lane, Papatoetoe
Every Monday & Wednesday
3.30pm – 6.30pm
To enrol and for more information, please contact Sarah: sarah@yesdisability.org.nz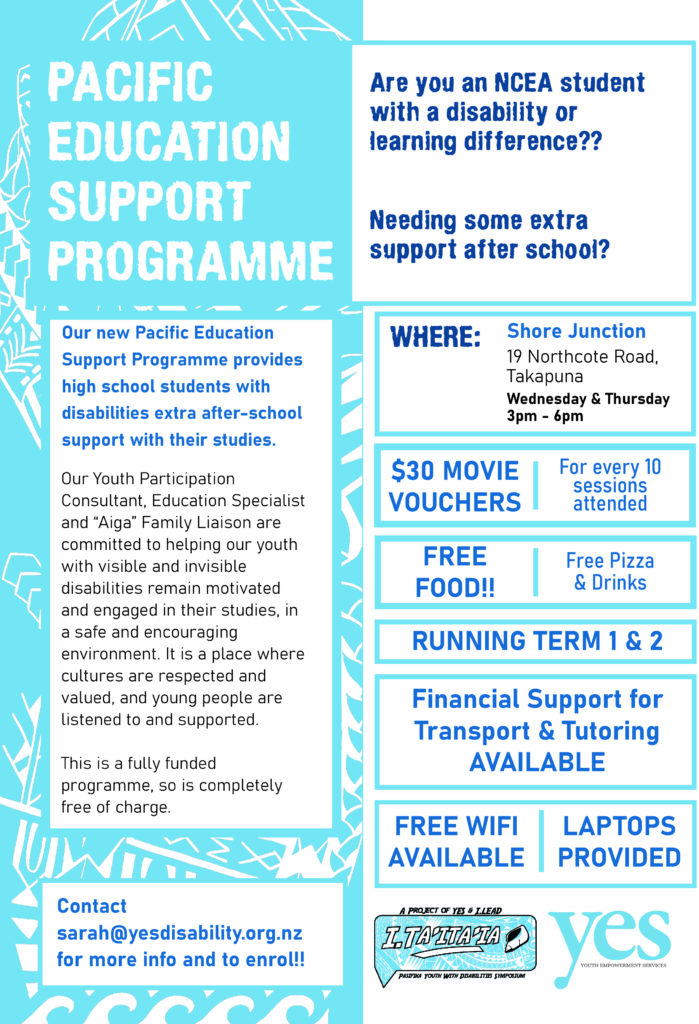 Workshops
YES also run a variety of workshops for youth with disabilities and learning differences.
We can design and deliver any workshop to help individuals and organisations create a culture of social inclusion.
Get in touch with us today to learn more.